NOW TELL ME WHAT'S YOUR LAME EXCUSE for not running.
Meet Kimberly Fawcett, Canadian parathlete and slambang B
ad Ass Big Mama lording it up in the world of parasports who simply rocks: running through the great outdoors of beautiful nature in Winnipeg, Manitoba with one good leg and an artificial limb, enjoying every minute and getting ready for more of her upcoming personal conquests in the world of parasports.
This June and July, she has just finished breezing through a trio of events : the PATCO Triathlon Pan American Championships in Dalls, Texas, the ITU Chicago World Parathriathlon Event, and most recently last July 19th, the Magog ITU World Z Parathriathlon Event .
So who's saying she has some disability problems ?
She's revving up for more menacing heft for this upcoming late August 2014 event: t

he ITU World Triathlon Series which " features world-class events all around the globe in which elite triathletes compete annually to become the ITU World Champion...

Edmonton will once again serve as host for the TransCanada Corp. World Triathlon Grand Finals ... (an event which will bring together athletes of all abilities, from rising phenoms to established veterans, Olympic medallists to weekend warriors."
What an amazing woman: Fawcett fought through all the storms in her life and emerged victorious. And she made it seem so easy exhibiting her strut-your-stuff swag and chutzpah like it's the most natural thing to do.
Being part of the Canadian Forces military, a career path she took to naturally being born to a family of military folks, she figured in an accident in 2006 ironically during her rest time with family when she was stationed in Kingston -- in between her wartime assignments.
She was walking home and held her nine-month-old baby Kieran when a reckless car driver broke loose and struck the mother-and-baby passers-by, dragging the two underneath the vehicle, and when the car came to an abrupt stop, she was thrown to a concrete barrier , and her baby was also thrown from her arms. It was a life-changing memorable nightmare, but the horrifying scenario failed to paralyze her, and further gave her more strength and courage to continue on what she wanted to do.
Fawcett was unfazed and resilient: she continued her military career, ventured into elite parasports via sitting volleyball, swimming , parathletics and paratriathlons --- and later bagged two bronze awards when she competed in two World Paratriathlon Championships held in Budapest in 2010, and in Beijing in 2012. Her husband Curtis, also a Canadian soldier like her and a fellow accomplished triathlete, supports her and helps her in her training for the competitions, bringing a picture of their baby Kieran in each competition to serve as her inspiration.
Fawcett shares:

"Everything I do is in memory of him. When I came back from Budapest, I brought the medal to his grave and took a picture of it hanging on his grave marker. It was my way of celebrating it with him. I can't tell you how many times he's been on my shoulder encouraging me to go on. If I didn't have that, I don't think I'd be able to keep going."
But it wasn't a smooth ride: the period of rehabilitation and recovery was a long and winding and arduous road, and while the rehab staff aimed to make her functional, Fawcett was aiming to be exceptional. The parasport world looked alluring for her , and everything fell into place with "angels" helping her on her way to recovery via Penguins Can Fly Founder and swim coach Vicki Keith who helped her become a brilliant swimmer, and further exposure to the Wounded Warriors Program and the Challenged Athletes Foundation established her final resolve on her direction and destination.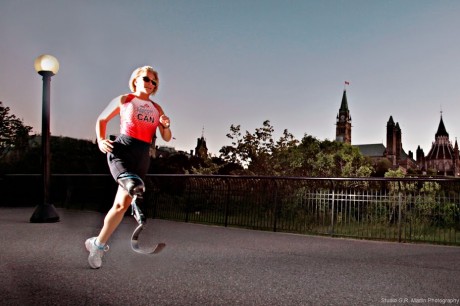 The raves are endless, talk about bravura and irreverent swagger and courage-beyond-fear all rolled into one. Simply overwhelming.
Fawcett holds an

officer position in the Royal Canadian Air Force and dubbed as an "up-and-coming national-level athlete in both paratriathlons and paraathletics, "pushing the boundaries of what was thought possible for people with disabilities." She is leading at the forefront of parasports programs , being the founder of the Canadian Forces Injured Soldiers Network -- and recognized as the first Canadian Forces member with an amputation to be deployed in the war in Afghanistan.
Fawcett, touted as an "excellent motivational speaker with a great story to tell", is leading the pack and at the the \helm as founder of the ParaAthletes of Canada (PAC). Its mission: "
to provide opportunities and support for people with physical mobility challenges to pursue competitive or recreational sports for life. Joining the PAC is to believe that all sports in Canada should immerse and include athletes of all abilities in elite, competitive and recreational activities and who believe in living life without limitations."
In October 2012, she bagged one of the biggest laurels for her: earning the coveted title of CTV 2012 Amazing Person of the Year. And nobody could be more deserving.
Fawcett tells her story like it is:
"It was an honor to say the very least , and it was completely unexpected. The event was awesome, and the
CTV organizing committee did an absolutely fantastic job of putting this event together. We started off the evening at my place. A bottle of Rose Moet and Chandon, and later we all jumped into the car and headed to the Ottawa Convention Centre. What an amazing location! We were greeted by a "Red Carpet" moment! We were welcomed, 'pinned' and then photographed. Champagne was overflowing here, and so, of course we had to drink again! "
" It was a very nice reception, and at the ballroom, we sat at the Elizabeth Taylor table -- since the theme was "Old Hollywood" and each table is named after a Hollywood star. With all the entertainment and events I realized there are so many talented and gifted people in Ottawa. Who knew? Well now I do. As we began the first course of the meal, the names of the top five nominees were announced, including mine. Our table cheered as we ate our mushroom soup. Just in time for the next course about 15 mins later, CTV then showed the video for each of the top three nominees. The third video happened to be mine. My husband Curtis grabbed my arm, shaking it back and forth in excitement. I'm thinking to myself "Yahoo!" I made Top Three and was quite happy to just eat my salad."
"Curtis turns his head and says to me, 'Kim, I really think you should wait to eat your salad until they announce the name'. I don't think Curtis and I were on the same page at that point. I'm thinking I'm starving and I want to eat and that it was a real honour to be named top three , so be happy and let's eat !! "
"So in pops a spinach leaf and then it happened. My name was called as the winner !!! To my delight -- and horror with spinach possibly stuck in my teeth -- my table screeched with excitement and surprise, and I tried desperately to swallow the leaf and make my way to the stage. It was a surreal moment for me. Nothing I ever expected. I am up there onstage receiving the award and I am in complete shock. I had a smile that was ear to ear, and not a good smile either with red lipstick. But who cares. At that point I was just so honored and so happy, that I could do nothing else but smile."
"People were standing up, shaking my hand and congratulating me left, right, and center and I don't think I stopped smiling or saying thank you for about the next three hours. I can say that I did get a few bites of dinner in me, and I did try and eat a slice of my dessert as a reward in celebration of this honor. I also got up on the dance floor to jiggy to Gangnam style !! Many thanks to the organizers, and all of my friends and family, and coaches who have supported these past six years. A big thanks to the people of Ottawa for their support. It truly means a lot to me."
And also on the same month of October 2012, another feather to Fawcett's cap: being inducted into the Canadian Forces Sports Hall of Fame. Her energy for life, her positivity, her go-getting bravura garnished with devil-may-care attitude and slambang courage and enthusiasm for life all make things happen for her. And everything always on large-scale.
There's nothing mediocre for this Wonder Woman. And y
ou can hear the fireworks miles away.
"This came as a complete surprise, although I had hoped that one day , my name would grace this prestigious group... "A s
pecial shout out to Eric Schaeffer of A Step Ahead Prosthetics in NYC who helped me learn to live life without limitations. Eric makes these amazing legs I wear; no more blisters, no more chaffing, no more ripped skin. Yahooo!! "
"Also a big shout out to my family and my husband Curtis. What a lot of people don't know is that my story is not simply about triumph over trauma. It's about my relationship with my spouse and how that has grown into what it is today. We persevered when most couples divorce particularly when it also involves the death of a child. We did not. It is because of Curtis and I have triumphed through perserverence."
Fawcett's voice reverberates: her life of bold audacity and unstoppable quest for triumph and adventure hurls out inspiration for everyone.
"Never let anyone curtail your dreams. Dare to dream big and then dare to dream to live outside the box. I did and I do. I am not mainstream because I choose to 'make it happen'."